Tiktok has become the most popular and the most addicting social media platforms. Its daily active users are increasing. According to the official reports, there are about millions of videos posted worldwide every now and then.

There are live examples that you can be an internet sensation and have a strong fan base. Some of the Tiktok world sensations are Lisa and Lena Mantler, Loren Gray, Baby Ariel, and Liza Koshy. There are many such Tiktok stars. Found some of your favorites? Want to have strong fan bases just like them? Then, you are in the right place. Here are some of the best ways you can increase your followers on Tiktok.

Upgrade your Tiktok Profile
You can start by enhancing your profile. Your profile is the first thing that comes across with the audience and says a lot about you. The contents you share, so what better way other than your profile to begin with.

Your profile is where you showcase your artistic talent, and people decide if they want to follow you or not. So, make sure to make your profile appealing to catch the eyes of people. And for those who are visiting your profile for the first time. Remember, the first impression is the last impression. Firstly, make your username short and catchy, so that people can remember it at one time. Also, add a clear description of yourself and the contents you are sharing. Just to give enough information and attract people. For instance, you can write "Hello people, I do prank videos. Let me know which of my videos entertain you the most."

Understand your Audience you want as Followers on Tiktok
Your audience is the most important person if you want to be an internet sensation. They need to like what you are sharing. For that, you need to know your audience first. Go to your profile, check your top fans and your top commentators. If you can, check their profiles too. This will help you better in understanding your people. It will also be helpful in creating content they like.

Another thing you can do to impress your audience is by replying as many comments as possible. It shows that you are concerned about them and you are listening. You can also conclude your video by asking what they would like to see next. This will take you close to them.

Be Spontaneous and Active on Tiktok
It is not enough that you show the audience what you do, and what you can do. You need to step a little ahead. You should create entertaining videos that showcase your talent. Make videos that are different from other videos. Funny videos are appealing to most people and lighten their moods. So, make sure you make your contents funny that people want to share that. Sometimes, a little surprise can do just the magic you need in your videos. So, make sure you're entertaining enough for people to hit the "Follow" button.
Twin musers Lisa and Lena Mantler say making entertaining videos have helped them a lot and entertained the audience too.
Consistency is the most important thing if you want your viewers to feel connected to you. It helps to develop a strong sense of identity for the viewers to recognize you. Having a good intro and outro is a plus point for you.
Likewise, you can also maintain consistency in your posting time and frequency. Try determining the best time for you to post by experimenting. Post videos at different times, and see when your audience is more engaged. This will make your video vulnerable to more audiences. For example, famous Canadian muser Kristen said to the officials that she posts between 11 AM and 5 PM twice a day. This increased the visibility of her videos.

Authenticity is a must for your Tiktok videos to be a big hit. Make videos based on the topics you are passionate about. If you enjoy doing the video, so do your viewers. This will reflect the quality of your videos as well. This should be able to attract people with the same interests.
Popular muser Loren Gray creates videos related to her real-life hobbies and interests. Which is why she has a strong fan base behind her. They love what she shares.

Engage in Viral Tiktok Challenges
Another amazing way you could increase your followers is by following the trend. This gives better exposure to your profile. If there are popular hashtags or trends on hype, go ride the wave. It will also get you a lot of inspiration on what kind of videos to make. So, JUST GO WITH THE FLOW.
The best example of this is the recent trend that went viral on the internet. The 'hit or miss' by @nyannyancosplay, a muser who makes videos wearing cosplay costumes and became an internet sensation. After he posted a video with the hashtag '#hitormiss.'

Promote Your Account Through Other Social Media Platforms
If you have a good number of followers on your other social media accounts, this could be a good way to publicize your Tiktok videos. The best social media platform for you to share your content is undoubtedly Facebook. With 90 billion active users being added daily, this gives you all the attention you need. You can also post it on your Youtube account, which is the second most popular source of traffic. Instagram and Twitter can also be your options.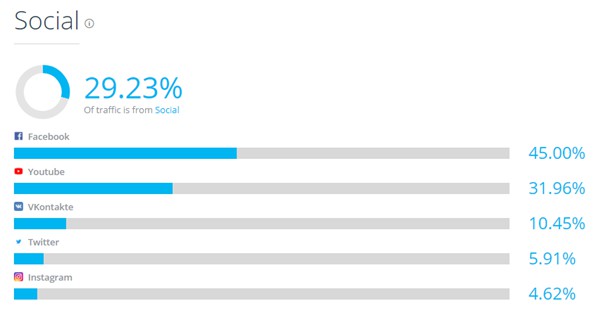 You can collaborate with other musers too in order to gain more followers. But, this won't work unless you work with musers that are relevant to you. So, consider working with other Tiktok musers who have the same fan base as you and share the same content. This will ensure that the new audience you are reaching is interested in following you. Once you have decided who you want to collaborate with, connect with them. Discuss what you wish to create. Use Musical.ly's duet function to do that. You can also make a cameo appearance on each other's videos.

These steps are some ways you can increase your Tiktok followers. But, keep in mind these processes take time and effort. So, keep your content updated and regular. In addition to this, make entertaining videos. If you don't want much work and you are okay with fake followers, there are apps to increase your followers for free and without effort.