Tiktok Musical.ly is a sensational social media application. It has transformed the internet, especially for those music lovers. The app has become quite an attention-seeker across all social media and particularly on Instagram. Like any other social media platform, if you are using Tiktok well, it's guaranteed to get you a lot of attention. As well as followers in your Tiktok account. Yet, in the end, something has to prove its worth. Before it gets praised in the modern technologically-advanced world. Now-now, how would you feel and react if we told you that you could get free followers, fans and likes on Tiktok for your account?

Even though many western users may not have heard of Tiktok until the morning. They updated their Musical.ly app it has always been popular in China. The user experience was much the same even after Musical.ly users found themselves migrated to a new app called Tiktok. The new app Tiktok did feature a new interface but preserved the features of the Musical.ly app. Tiktok, at heart, is still the old app for teens and tweens to exchange 15-60 seconds long videos. However, the term 'muser' is no longer appropriate as it once was.

Like many other social network users, Tiktok users (Tiktokers or does that term sound like a clock?) aim and look to build a strong following. The best and most reliable way to increase your followers and fans on Tiktok is the organic way of befriending other Tiktok users. By liking and commenting on their videos. Regardless, there are some tools that claim they can help you find Tiktok followers. In regards to all such tools, some tools are more decent and legal than others are.

The organic way to increase your Tiktok fans, followers, and likes
The most reliable and legal way to improve your Tiktok account by far is to build an organic and real fan following. Below are some of the best ways you can enhance your Tiktok following organically.

1. Firstly, create a short and creative profile. Your profile should include all the essential details about you. It should also mention the type of content you like to create and share. But be careful not to give away too much information about yourself. Because if you provide too much personal data online, some shady and wicked people could use that information of yours.

2. Also, use trending (but related and appropriate) hashtags on the videos you upload. When you think of making a video, you can think of some topics that tie in with the trending hashtags. There is little or no point in making a video just because the hashtag is trending. Unless that video interest your followers. So, don't forget to keep your audience in mind before you make a video.

3. Try uploading your original videos if possible. Rather than the same old typical lip-sync videos uploaded by the vast majority of users. Surely, lip-sync videos may make a good start for your journey on Tiktok. But in the long run, they will not help you stand from the crowd in Tiktok.

4. A good soundtrack for your videos is a must. A good soundtrack would appeal better to the type of people you want to follow you. Luckily, Tiktok has made necessary arrangements with most of the leading music companies. As a result, you to use their copyrighted music in your videos.

5. Try making the best quality videos as possible. You can learn from the previous videos you uploaded. For stability, while shooting a video, buy better equipment when you can afford it. Once a user gains a reputation for uploading high-quality fun videos on Tiktok, followers start gathering around them.

6. Upload at least one video regularly. In my suggestion, you should post videos daily. But keep in mind not to degrade the quality in the name of uploading more videos

7. You can also comment on other user's videos. It's better if you look for users who make the same types of video as you in particular. First, make certain that they're intelligent. And then drop helpful comments on their videos, not a short 'good video' comment.

8. Another way is to engage with your followers regularly. Reply to their comments on your videos. View their videos too if they have uploaded any, and also make encouraging comments on them. This helps you to better enhance your relationship with them.

9. Collaborating with other users on Tiktok is another way you can invite followers. But don't try jumping above your level. In order to succeed, you have to collaborate and work with those Tiktok users. Those who have the same or a fractionally similar number of fan following as you. As you gain more followers, you will then get access to better collaborators.

10. The best thing you could do is promote your Tiktok account and videos on other social media platforms that you have accounts in. Share the trailers of your videos on social media apps. Such as Instagram, Facebook, Twitter, and Youtube as well. Along with this, make sure your description of the videos indicates and targets the type of people for whom you created the videos.

Tools marketed for boosting likes and followers on Tiktok
Here, I have talked about a variety of tools that claims to help you in your mission of getting more followers and likes in your Tiktok accounts. Most of these tools are free to use whereas some of these tools are questionable and vague claims. Some of these tools have a smell of snake oil meaning a valueless solution. We have brought to you these tools because of the demand of some users. But we make no promises about the effectiveness of these tools.

Most of these tools originated from the Musical.ly days, so many tools still feature that name. It might take quite a little while before everybody adjusts with Tiktok being the new Musical.ly app.

1. TikFame: Free Fans & Followers & Hearts
Unlike many of the other competing apps, at least TikFame recognized the change of Musical.ly to Tiktok. It was last updated recently in January 2019. This app claims that it can help you get more likes and followers on your Tiktok videos and account. It says that it can make your posts discoverable. Increasing their popularity as well as likes. You just have to follow the steps within the app.

Though MusiFame may not have changed their name to reflect the change of Musical.ly to Tiktok. It has a banner saying all their services are updated and running till date. They provide you with an offer to buy Musical.ly Tiktok followers and likes. In order to use this service, you first need to choose a package and enter your details. Wait for a few minutes, and see the result as the followers you bought propagates to your Tiktok account. You can choose from a range of packs for followers and likes, ranging from 100 to 5000 fans or likes.

3. Real Followers for Musical.ly- Get Free Likes: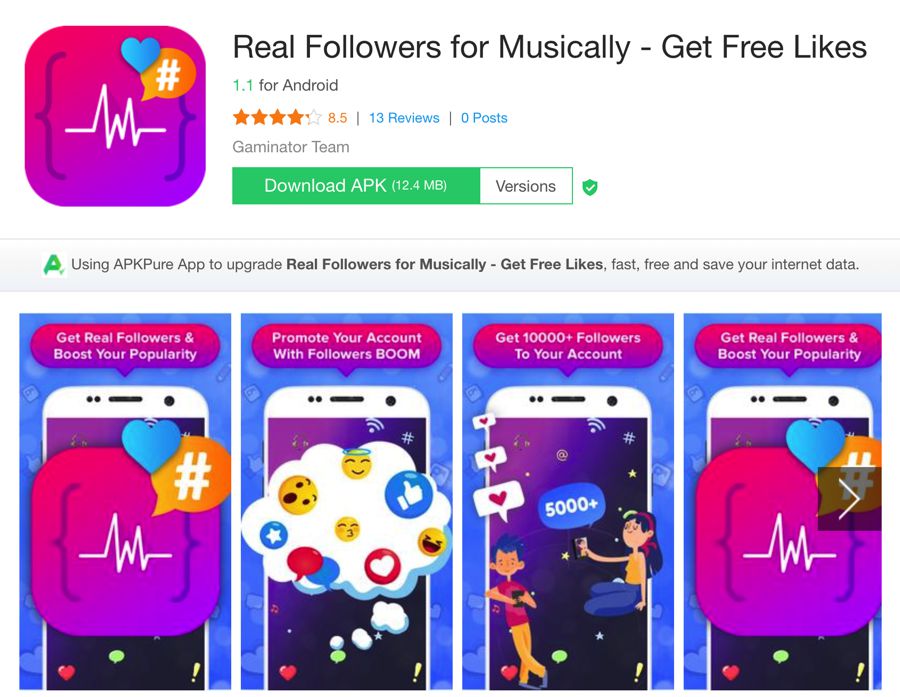 As the name itself suggests, Real Followers for Musical.ly- Get Free Likes is an Android APK app. It has been designed to find you your followers on Musical.ly. Since it hasn't been updated since 2018, I am a little uncertain whether it stills works or not on Tiktok. Someone said it works so I added this app to the list.

The app claims it can help you build your number of followers. Even though this app is free, you still have to 'pay a price' to gain your followers. Your payment is when you perform various simple tasks like

Install other apps from the Google Play Store.
Spin the wheel of fortune to gain followers
Play simple games
Watch videos and commercials
4. Boost for Musical.ly followers:
This is another Android APK app that is designed to help you boost your Musical.ly followers and likes. It hasn't had a Tiktok-specific update yet. This app is quite easy and straightforward for you to use. It asks you for your username, your requested number of new free followers, and your required amount of free likes too.

CONCLUSION: Though all the above-mentioned tools promise to increase your likes and followers. It is less likely or moreover unlikely that they will have any interest in your content. What's more is some may not be real people at all, just some bots which are frowned upon and not legitimate.

The only way to become an influencer on any social media platform is to produce quality content. You need to communicate actively with real people on the site. And gradually build your account. You may think at first that you lack the video-making skills to succeed on Tiktok. But these skills are something you can develop as you go along.

The tools that promise you free followers, or even worse, ask you to pay for such, will not bring you genuine, interested and real followers. Your so-called new followers would probably be somebody from a low-pay country who will receive a few cents only to be your friend for some time. Or they could be a computer. The worst-case scenario is they could be people trying to defraud you or even worse.