Are you new to Tiktok? Want to know what Tiktok is and why has it been so popular lately? Then, you came to the right place. Here is all the basic information about Tiktok you need to know.
Growing its popularity in the technical world, Tiktok is the largest live streaming and video streaming platform in the world. It is the most popular and most interesting social media platform. Tiktok now has around 90 million registered active users. More than 590 million videos are uploaded on the platform each day. The bottom line is that the users or musers as they like to be called film videos of themselves lip-syncing. Or acting out some scenes, up to 50-60 seconds long, and can choose from a series of songs, music, effects or sound bites. Want to collaborate with others? Want to make your own lines for others to join your original videos? You can do just that and many more with the help of Tiktok.

Tiktok is not the first lip-syncing and video streaming app with filters and sounds. It is because a number of such apps like Snapchat, Musical.ly, Vines, Dubsmash, etc have set their footprints in this technical world. But, Tiktok has made an enormous effect on this digital generation. It is the world's most valuable startup as reported by the Verge officials.

Where did Tiktok Come From?
Tiktok is, in fact, the second iteration of Musical.ly, a famous app launched in 2014 by Alex Zhu and Luyu Yang. By 2015, Musical.ly was the most downloaded app on the US IOS store according to officials. This influenced Chinese internet Technology Company ByteDance to create its own version. Later, Musical.ly was bought by the Beijing-based tech company ByteDance. It owns Tiktok too.
In August 2018, Tiktok engrossed Musical.ly. Later, all the Musical.ly accounts were transferred to Tiktok. If you were a big user of Musical.ly don't worry, all your contents are safe, it's just on Tiktok now. When ByteDance launched this app in 2016, nobody considered it any different from a Western app for the Chinese market. But it's one of the first Chinese social media platforms to gain popularity outside of its home country. It is also among the most downloaded app worldwide. Douyin is the name of the Chinese version of Tiktok.

Since its creation, Tiktok has been the talk of the town. If you see people on their phones acting, lip-syncing and dancing without any kinds of music, know that they are making a Tiktok video. If they aren't, it's obvious they must be out of their minds. LOL!
You must have heard about the Tumbleweed Challenge. It's one of the challenges Actor Jimmy Fallon started in his famous show 'Tonight Show with Jimmy Fallon.' Actor Jimmy Fallon recorded his own tumbleweed challenge. He then asked his viewers to submit their own version of this on the Tiktok app. Consequently, this challenge went viral with about 8000 entries within a week. This is how Tiktok blew up.

At the present time, there are a number of such challenges viral on Tiktok and every other social media platform. The app creates open challenges, contests and picks up local trends. In order to promote the app on the national and international scale. Also, the app uses trending hashtags to suggest topics for users to create their content.

This app is not a social media platform, it is also a platform for showcasing one's talents and creativity. There's a trend of using social media for entertainment purposes rather than sharing personal details. Tiktok feeds into that need by giving everybody a platform to express their creativity. Tiktok is entertaining and brings out real emotions. Authentic contents are what we crave for nowadays and Tiktok is where we can find it. In addition to this, Tiktok offers tons of great features like special effects, filters, song bites. AMAZING!

Tiktok has been making a lot of buzz lately. It is certain to last a long time looking at the rise of active users and page views every day. Tiktok has a huge fan following and immense potential to become the next big thing in marketing and social media. If you still haven't been a part of this huge family and want to be a member, go do it now on Tiktok. Create a Tiktok account and go unleash new surprises.

How To Use Tiktok Musical.ly App?
Once you've set up your account you'll reach TikTok's endless video stream known as the 'For You' tab. This is like Instagram's 'Discover' option. Since, you're getting started and aren't following anyone, hit the magnifying glass icon at the bottom left of the screen. This will let you search trending hashtags, popular users, and hot songs that people are including in their posts. There's literally every form of posts you could imagine. Such as dance challenges, lip-syncing videos, slapstick humor, viral magic tricks. You can also find adorable pets videos. If a certain user interests you as particularly funny or creative, add them to your feed. Tap their handle found above the video's caption on the lower left part of the screen. It will redirect you to their profile to give them a follow.

Once you have got the feel of what's trending out there by now, try creating your own content. If you have used Snapchat or Instagram stories before, this should be easy for you. You can use the menus found on the upper right-hand corner of the app to add filters and make edits. Nailing the right video on the first try is hard and if you don't, continue filming and editing.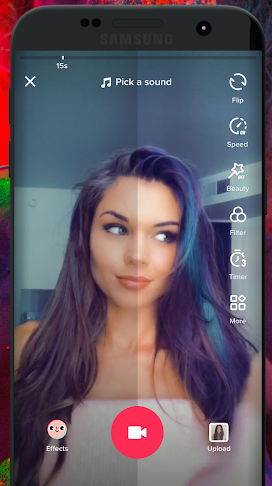 When you've got a video you are satisfied with, hit the "Next" button at the bottom right of the screen. This allows you to add a caption, hashtags, and other details. Then click on 'post'. You can check reactions to your clip by going to the 'Notification' menu. There click on the comment bubble next to the plus sign at the bottom of the screen. This menu will also let you know when one of the users you follow post something new. Now, get browsing and consider yourself a part of Tiktok. If you need any other help with Tiktok, feel free to search the Tiktok Guide website.