Tiktok is dedicated to videos and has grown its importance since it came out in this digital world. Previously known as Musical.ly, Tik Tok has become the largest live streaming and video streaming platform in the world. Influencing people of all age groups, it has 90 million registered users. More than 580 million new videos get posted each day.

This social site allows its users to record 15 seconds – 1 minute long videos. The app also offers varieties of filters, effects, and music to choose from. If you want longer videos or want to edit your TikTok videos, there are a number of apps you can do that from. But first, you have to download your videos on your smartphones or your computers. Here are some 4 amazing methods and steps to download videos from Tiktok.

METHOD 1: Download Your Tik Tok Videos on Your Smartphones (Android & IOS)
TikTok is applicable to both I-phone and Android users. The process of downloading videos from this app to your camera roll is the same for both operating systems. For this, you have to launch the TikTok app from your phone. Then click on the Account icon on the bottom right corner of the app's main window.

The videos you posted on Tiktok will be on your profile, so you only have to choose the videos you wish to download. The videos will start playing automatically after you click on it. Then you can click on the Share Icon in the lower right section of the page and proceed. Now tap on the 'download icon' among the different share options provided.

METHOD 2: Using The Video Downloader
Downloading videos to your smartphone directly can be a bit slow. You can use this method if you want your videos to be downloaded in no time. You can find some video downloader apps for Tiktok on Google.com. Here, I am explaining the process of downloading videos using the Video Downloader for Musical.ly as an example.
Once you've downloaded the 'Video Downloader for Musical.ly' on your phone, locate the videos you want to save. Open your profile and click on the 'Account' icon and select the videos to download. Click on the 'Share' icon and then tap on the 'Copy Link' option. After you are done with that, open your video downloader. Now paste the link you copied on the designated destination in the TikTok app. The preview of your video will appear on the screen with two options; 'Save Image' and 'Download Video'. Click on the 'Download Video'. Your work is done here.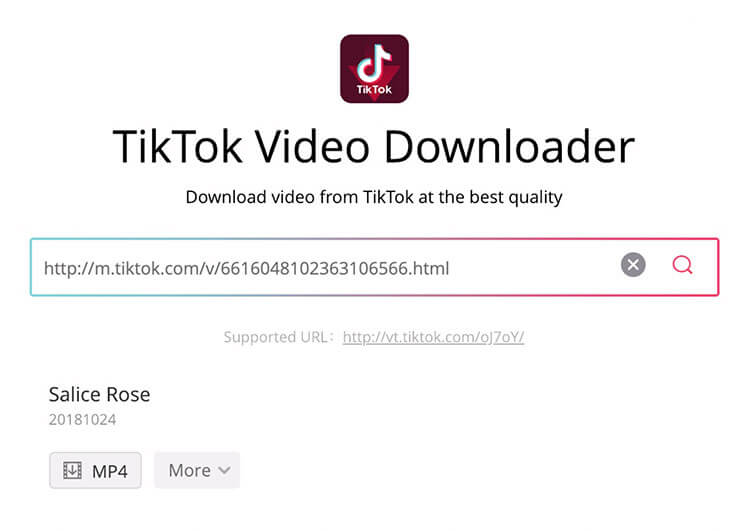 METHOD 3: Downloading Tik Tok Videos Via Email
The TikTok's share menu includes the 'Email' option, that enables you to send videos to yourself. Or you can choose to send the video to your friend via email. Once you choose the video you want to send click on the 'Share' icon. Then select the Email option from the menu and insert the email address into the To and From sections.

Go to your email account where you will be able to see the videos you sent to your friend or yourself. The 'Download' option will be next to the video you sent, click on it to download the video to your phone.
METHOD 4: Saving MP3 Video File to Your PC
You can choose this method if you want your videos on your PC because there are no download options for your PCs. For that, download the 5Kplayer to download videos from all sharing platforms.
Just follow the two simple steps and you can watch your videos on your PC. Find the video you would like to save on your computer and open its preview page. Copy the video's URL and paste in on the '5KPlayer'. Once the thumbnail of your video appears on your screen, click on the 'Download' button to save your MP3 file.
Downloading Tiktok Videos Without Watermark
It's annoying when a watermark keeps popping when you watch Tiktok videos. It's distracting, so some people prefer to erase those watermarks from their videos. There are several ways to erase watermarks from any videos. That includes Tiktok videos and many more. You can use Beecut for your PC or Watermark Removal for Tiktok for your Android.

CONCLUSION: Downloading your TikTok videos on your smartphones or your PC is easy. It can be done within minutes. You just have to know these few easy steps and your videos are on your smartphones and PCs in no time.